Interview with Andrea Bresciani, a versatile businessman.
Andrea Bresciani is an elegant, short-spoken businessman, however his story and thoughts are especially interesting.
Andrea Bresciani is one of the most versatile businessman. What is his hobby, for it came first time to Hungary? How has he founded a huge IT company, and why did he choose Hungary for living?
Andrea Bresciani is an eternally curious oriented to learn and listen from the environment and from the events. With an education in design and architecture, he joins to the industry of information technology for passion and curiosity. He founded and leads Advancé technologies, an IT company based on business applications for medium, large and global companies. His own expertise in software engineering and development lets the company follow every kind of need in terms of software analysis, process analysis and software engineering/re-engineering.
So, what is his motivation, where is the energy to do so much on a professional level?
Where are you from?


I am from Rome, Italy.
When did you arrive to Hungary and what brought you here?


This is an interesting story. My first time in Hungary was in Esztergom, in 2010. I was there for a kick boxing stage with my Italian team and the Hungarian light contact team.
Have you ever been an expatriate elsewhere?


In the 90's, I was really close to expatriate to Canada to complete my studies in Architecture. After reconsidering this opportunity, I did not get close to same type of decision. Hungary is my first occasion to live abroad.
Have you arrived originally to be an expatreneur or this was not your No. 1 priority?


After I discovered Hungary in 2010, I decided to learn more about this beautiful country. I started to read few books about history and tourism. What I read was extremely interesting, and I started to get curios about economy and labor. In 2011, I established a research and development center for my Italian company operating in the IT industry. Everything started from that time.
As of business: what is your business field? Why did you choose this business?


My company is in the information technology industry, recently delivering business consultancy as well. This is another interesting story. During the university I started to collaborate with a magazine, writing articles about technical topics. In both the experiences, I was using a computer, and I started to be more curios about technology and what was behind the screen. Few months later I was writing my first software. The more the opportunities, the more the curiosity. Seven years later I was running my first IT company.
What was the most difficult to solve when you started your company in Hungary?


I think the most difficult thing was to find the best way to deal with the Hungarian way of thinking, as it is completely different from the Italian one.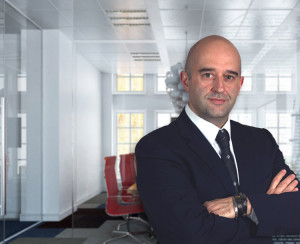 How did you find a solution?


Reading books, as I did at the beginning. The history of the country answered to many questions, giving me different point of view.
What are today's challenges?


In 2015 I sold my Italian company. The Hungarian company has now to compete in the local market with his own strengths.
How many employees do you work with?


We actually work with about 20 professional consultants in Italy and Hungary.
What surprised you the most about Hungary?


Respects for others and for the country, something we are loosing in Italy.
What is your favorite Hungarian food?


Gulyás!
What about Hungarian wines? Do you have a favorite?


Unfortunately I am not a wine person, but I had the opportunity to taste wine of Eger county. Really good.
What is your favorite Hungarian word?


Egészségedre.
What do you miss most from home?


I would say Mediterranean food, as I am always on diet and under training (or I try to do it).
What's your favorite thing about being an expat in Hungary?


The speed of life, that lets you taste any moment instead of running all the time, as it is in Italy.
What would you do different now than in the beginning regarding your business or career?


A more accurate understanding of the market as investor. Hungary can be really a land of opportunities.
What are your hobbies?


As mentioned, kick boxing and martial arts. At another level I like to design, brainstorming and creative moment. My big passion is Tango and piano. And I decided to learn the Hungarian language. It's not easy… And I spend as much time as I can with my family. My son born half year ago.
Buda or Pest?


Mindeketto (Both of them –the editor), but I really would like in Buda, Istenhegy area.
What is your personal credo, motto or quote?


"The advantage of being smart is that you can always make a fool, while the opposite is impossible" (Woody Allen). My own is "Think big, always".
Do you have or plan to start any CSR activities?


Yes, it is in our DNA.
If you could go back in time to start your business in Hungary from the beginning, do you see the sense to work with a business management agency like Business Management Hungary?


The internationalization must be always supported with a local expert, otherwise money and resource can be wasted really easily.
Did you like this interview with Andrea Bresciani? If so, you are welcomed to suggest us people to do interview with!

Business Management Hungary
www.businessmanagementhungary.com