Interview with Tinatin Gholadze, businesswoman and startup owner from Georgia.
Tinatin Gholadze is a businesswoman, who is living now in Georgia, but for years she was not even learning but also starting and leading a successful startup company in Budapest.
Why, and what is Tinatin Gholadze's motivation? Why was a great experience being in Hungary for her and what is her message for every young entrepreneurs?
Where are you from?
Georgia.
When did you arrive to Hungary and what brought you here?
I arrived in Hungary in 2015 with an Erasmus funded program Active to develop a guide book about building technology incubators at universities, I spent several months at BME.
Have you ever been an expatriate elsewhere?
I am travelling a lot, but Hungary was a first place for me, where I lived as an expat and it gave a great experience.
Have you arrived originally to be an expatreneur or this was not your No. 1 priority?
I arrived as an academics and entrepreneurship ecosystem builder, but currently I'm a tech entrepreneur and plan to develop my startup carrier in Hungary in partnership with my Hungarian partners. Networks, knowledge and experience gained in Hungary would be very useful for this.
As of business: what is your business field? Why did you choose this business?
Currently I'm working to develop an e-commerce travel startup, beta version would be available soon.
What are today's challenges?
Finalize the business model, find a seed funding, start developing a product on a local level and then continue internationalization. Because almost everything depends on having a great business model. So that is the first problem, what should be solved soon.
How many employees do you work with?
Currently we are a team of 3 founders and 2 stuff.
What surprised you the most about Hungary?
That people use word Hello for both greeting and saying goodbye. That was more than surprising for me.
What is your favorite Hungarian food?
Goulash, Somloi Galuska.
What about Hungarian wines? Do you have a favorite?
I tried several ones, but I like Hungarian red wine Bikaver.
What is your favorite Hungarian word?
I remember very well word Utca, as I was hearing it very often I n the street, subtitles, metros… So much time I saw this word, everywhere I was going, I remember this exactly.
What did you miss most from home?
I miss my family and friends, but I found good friends and partners in Hungary too. Both country founded kindly people, and thanks to living in a modern century, and the technology I could keep touched with my family and friends in Georgia. But they were happy when I went back.
(Editor's remark: We hope Tinantin comes back again to Hungary once!)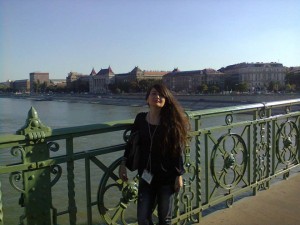 What's your favorite thing about being an expat in Hungary?
Hungary is a great place to live. It has nice architecture and views, I loved walking and travelling here and just seeing the beautiful views. The public transport is highly well organized and structured. In Budapest also convenient to travel by public transport. Moreover, prices are quite low here, in some cased food prices are much lower than in my country, Georgia.
What would you do different now than in the beginning regarding your business or career?
I would try to avoid multi-tasking and priorities and concentrate on specific thing. This is not an easy challenge. But if it is succeeded, I could or can work more effectively.
What are your hobbies?
Photo taking.
Buda or Pest?
Pest. Because of the city center, almost all nice places are placed in Pest on a walking distance.
What is your personal credo, motto or quote?
You can do it.
Do you have or plan to start any CSR activities?
Yes, after I shall have a success in my business.
If you could go back in time to start your business in Hungary from the beginning, do you see the sense to work with a business management agency like Business Management Hungary?
If I go back to start my career in Hungary, I would cooperate with Entrepreneurial Associations and Business Management Hungary in order to learn more about startup opportunities and network more with entrepreneurs, investors, and VC founds.
Did you like this interview with Tinatin Gholadze? If so, you are welcomed to suggest us people to do interview with!

Business Management Hungary
www.businessmanagementhungary.com