Interview with Jeroen van Drunen, co-director of Irota EcoLodge
Jeroen van Drunen operates Irota EcoLodge with his colleague, Lennard de Klerk in North-East Hungary (Cserehát region, BAZ county). This mini-resort consists of three luxurious holiday villas with a swimming pool, which are all climate neutral. He is also a former diplomat with many years of living abroad behind him. Next to that, he holds a PhD in cultural history and publishes as a freelancer within this expertise.
1. Where are you from?
I am originally from Nijmegen, The Netherlands.
Jeroen van Drunen
2. When did you arrive to Hungary and what brought you here?
I have been living in Hungary since 2007, when I moved here to conduct my PhD research. However, I first came to the country for a longer time as a student in 1993. That is when I started to learn Hungarian.
3. Have you ever been an expatriate elsewhere?
As a Dutch diplomat, I have held positions in Kyiv, Ukraine and Berlin, Germany.
4. Have you arrived originally to be an expatreneur or this was not your No. 1 priority?
Research was my prime motivation to come to Hungary, as such I have lived in Budapest from 2007-2012.
5. As of business: what is your business field? Why did you choose it?
Our first strategic decision was to move to the Hungarian countryside. The area we moved to offers little to no luxury holiday accommodation. As my business partner's area of expertise is environmental technology and sustainable development, we decided to combine these factors.
6. What was the most difficult to solve when you started your company in Hungary?
We are pioneers in the area of luxury eco-tourism in this geographical area. It has often been challenging to convince our partners in construction and licensing of the validity of our claims and plans. We also found that communication is not a strongpoint in Hungary. Often we had to mediate between subcontractors when for us the logical solution would have been for them to work out things together.
Irota EcoLodge
7. How did you find a solution?
With patience and perseverance. Show people what you are doing, explain why you think it should be done this way. In case of communication problems: endless mediation. Force people to sit around a table together and find solutions.
8. What are today's challenges?
To convince possible guests that this area of Hungary is well worth visiting. So far, Hungarians found us easily and during our first season in business, we were happy to welcome many holidaymakers from Hungary. Now, the big challenge is to attract guests from abroad as well.
9. How many employees do you work with?
We have four local colleagues who assist us with cleaning and maintenance.
10. What surprised you the most about Hungary? That is hard to say. I first lived here in 1993, times were completely different then. Hungary was very much a post-socialist society, which presented me with surprises every day. What keeps on striking me is the inward way of looking in this country, a bit of an island mentality. I guess we Dutch are exactly the other way around.
11. What is your favorite Hungarian food?
Impossible to choose. I love pörkölt, paprikás csirke, töltött káposzta, rétes, bejgli… the list is endless.
12. What about Hungarian wines? Do you have a favorite?
I love Hungarian wines. We are very close to the Tokaj area, so we know the Tokaj wines very well. In that range I am a big fan of dry furmint and late harvest (késői szüret), but more in general I am fascinated by the many unique indigenous Hungarian grape varieties (hárslevelű, irsai olivér etc.).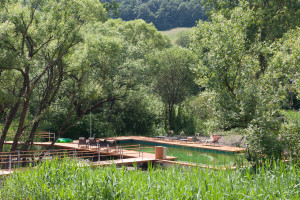 Irota EcoLodge
13. What is your favorite Hungarian word?
That must be önsorsrontó – unfortunately, you see so many examples of it.
14. What do you miss most from home?
Fresh seafood.
15. What's your favorite thing about being an expat in Hungary?
I don't know if I really consider myself an expat anymore, maybe 'immigrant' fits the bill better. What I like about life here is the space and quiet on the one hand, and the vibrant cultural life on the other – it's all there.
16. What would you do different now than in the beginning regarding your business or career?
That would require and entirely separate interview, I am afraid. Many of those things, however, only come with experience, such as knowing when to remain friendly and calm and when to slam your fist on the table.
17. What are your hobbies?
I read, travel, swim, walk, sing, grow my own food and I love to cook.
18. Buda or Pest? Or why that city where you are actually living?
I am a big fan of Pest, where we still have an apartment in the 6th district – and of Irota of course, the prettiest village on earth.
19. What is your personal credo, motto or quote?
I don't really have one, but 'stop whining, start acting' would come close.
20. Do you have or plan to start any CSR activities?
CSR is the core foundation of our business, as we are environmentally friendly, active in rural development, promote local initiatives and employ local workforce.
21. If you could go back in time to start your business in Hungary from the beginning, do you see the sense to work with a business management agency like Business Management Hungary?
I don't know what that would entail. So far, we have been doing well … and we like pioneering.
Did you like this interview with Jeroen van Drunen? If so, you are welcomed to suggest us people to do interview with!

Business Management Hungary
www.businessmanagementhungary.com