Doing business in Hungary looks to be a mistery for many entrepreneurs. Some of them – I hope that they are the minority! – doesn't even know if Hungary is in Europe, in the Balkans or in the Middle-East. And we know, that many of them including even politicians, celebrities, etc. mix up the capital, Budapest wih the Romanian capital, Bucharest. But this is not the issue now. Let's talk a little bit about Israel, the Holy Land.
A "long" time ago, in a galaxy, not so far away … in 2009 in Budapest I met a businessman who, as I mentioned in my previous post, became a kind of mentor to me. He was about to bring Israeli Dead Sea cosmetic products to Budapest. He was looking for someone helping him doing business in Hungary.
Both of us were lucky enough, I believe, to meet each other, both of us made a lot of profit together – not solely in a financial meaning. Thanks to this meeting and the work together I had the luck to visit Israel a few times in the last years. Last time just last week. This post is mostly about Israel and less about doing business in Hungary or any other business opportunities in Hungary. In the end still I will write a few words about some success.
I was there with Ms. Boglárka Vincze, who is the Russian Division Manager of Business Management Hungary. Regardless of the business opportunities we spent a great time there. Visiting Jerusalem, the Dead Sea and Tel Aviv all was a wonderfull experience. Well, sometimes pictures talk better about feelings than words, so let me share some of them now, and under I will write some thoughts.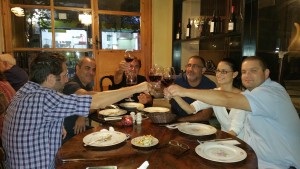 From left to right: Itai Frankfurt, Yehuda Zarif, Lev Nissim, Etai Levi, Boglárka Vincze and Adorján Tóth. Friendship, partnership, still before the huuuge quantity of food what is quite general in Israel.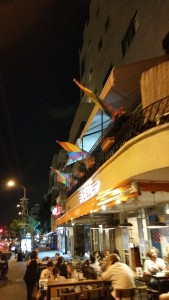 Pride and acceptance walking hand in hand even moths after the Pride Tel Aviv 2015.
(I am not sure that the umbrellas are a "proud-uct" of the that, but I have seen them in many countries worldwide on facebook, for example here. But anyway: they blend into the picture.)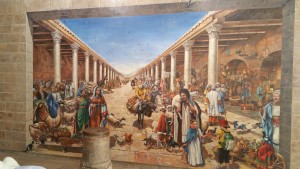 The ancient world and the 21th century meet in Israel. Just take a look at this picture, where can you see the look of the old town of Jerusalem with the main road called Cardo. Do you recognize the connection to our present days?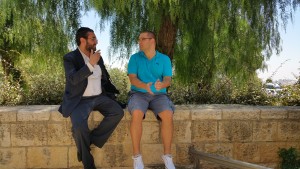 This jewish guy, living in France, working in Israel currently, was very friendly, gave his face for a photo and was ready to discuss with a Hungarian Christian guy anything in english. What is this if not a very good example of modern multiculturalism in the cradle of all religions?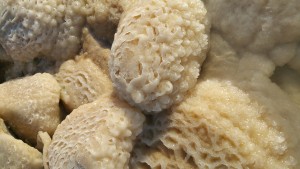 The famous Dead Sea salt on the stones of the beach. Extremly hot weather, warm and oily water, floating, beauty. 400 meters under sea level. Unforgettable.
Not so long time ago two israeli guys got in touch with me in order to work together on bringing electric bikes to Hungary and for doing business in Hungary. Well, now I understood perfectly why it looks like a good business from Israel, especially in Tel Aviv. I think in Hungary, or to be more accurate: in Budapest we still need time (and much more crowd on the street and roads) to explore the advantages of these vehicles.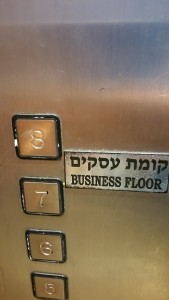 Living on the business floor was … just like living on other floors. But still something else. Difficult to explain.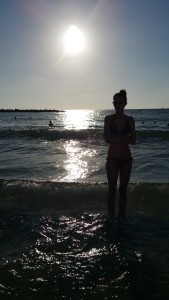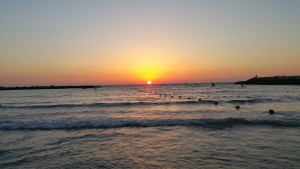 The Mediterranean Sea in Tel Aviv. I have seen her many times, from Gibraltar to Israel. In Europe, in Africa and in Asia. But the golden bridge of the sunset … is always amazing, fascinating and soothing.
And, just to stay on the floor of realism, now, in the end of jellyfish season, I suffered my first medusa sting ever in my life.

A panoramic view from the balcony of the hotel. Just to make the reader see and understand why this "eurasian" country feels to me a portal between modern and ancient worlds, west and east, war and peace, just to mention some of the most obvious contradictions from many, which makes today's World as we know it.
Well, in the end I can mention that we made a good job also for our business interests. We met a well known hungarian celebrity-blogger-journalist living in Tel Aviv and agreed to start closing some of our steps for some cooperation. Also, one of our partners agreed to start cooperation (both in terms of work and investment) in order to make the first steps towards global reach taken by a jewellery brand as a web 3.0 webshop.
Also, generally, it's told that Israel is a huge startup hub of the Globe. Well, during our few hours spent on the beach in Tel Aviv, I heard three different groups of young people, not just Israelis, but also from India and the US, talking about theirs plans, processes, businesses between each other.
Right there I felt of being part of the international startup blood circulation.
Business Management Hungary
www.businessmanagementhungary.com
published on LinkedIn 16/07/2015 by Business Management Hungary